About Solitray
Solitray is the uniquely designed serving tray, developed by a bar owner, to help end spilled trays and increase staff efficiency. Navigating a crowded bar environment or needing a free hand to open or close a door while carrying a full tray is no longer a problem using a Solitray. Solitray's lower level receptacles can hold seven filled glasses or eleven beer bottles, while the upper level adds area room for smaller drinks or plates. The small compartment can be used for straws, silverware, napkins.Clean up becomes a breeze with Solitray. Stack glasses and plates vertically to clean an entire table in one trip and still have a free hand to wipe the table clean.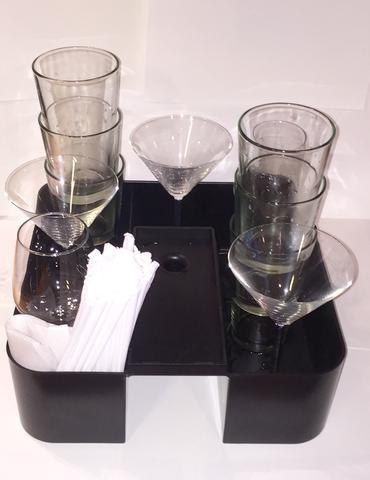 Home Settings
Having family and friends over on your terrace or patio means constantly having to get through a sliding door with both hands full. No longer....... Solitray allows one hand to stay free as you bring drinks, food, plates, snacks to your guests while having a hand free to open and close doors or screens. Fill the tray with ice and beer and make a day of it in one trip or bring it with you into the pool with a few drinks and some chips.....the Solitray floats.
Restaurant Setting
In the bar/restaurant setting, serving without the fear of a bumped server or spilled tray is a breeze with Solitray. The underneath vertical handle allows servers to easily navigate a crowded bar, and if bumped, the glasses and drinks will remain safe in Solitray's 4 inch receptacles saving servers time and bars the expense of broken glasses and lost product. Of course bussing a table is done quickly and easily in one trip with Solitary getting tables quickly ready for new patrons.